Tommy Broughan

Tommy Broughan candidate and now TD for Dublin Bay North was and is refusing to say that he ran for party.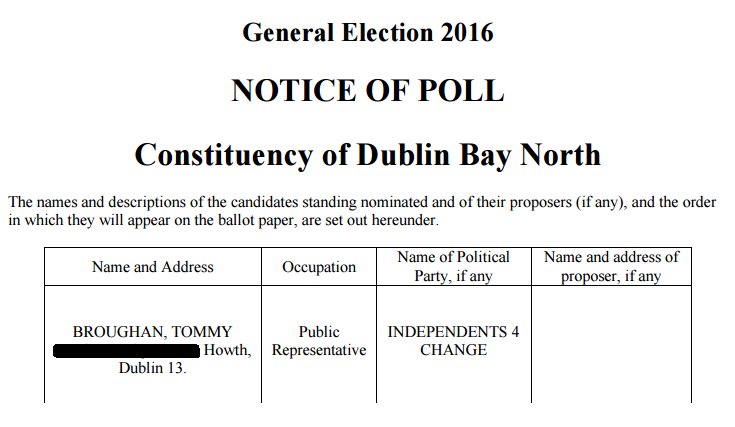 Notice of Poll Dublin Bay North


Tommy Broughan wont name Independents 4 Change party he is running for on election leaflets https://t.co/Iv2Lgi7C35 pic.twitter.com/OcpSsQ7WTu

— steve white (@lostexpectation) February 19, 2016
The
media
also often call him an Independent TD rather then name his party
Indepenents 4 Change
.
Tommy Broughan at the Near FM election debate say he is a Right2Change independent who works with 6 or 7 other independents but does not member of the party.
Right2Change
Right2Change is a political movement born out of the Right2Water campaign.
Associated 2016 candidates
RTE interviewed Tommy Broughan a few times and at no time did Tommy Broughan volunteer which party he was working for or did RTE say which party.
On the 19th of February Drivetime asked him who he would work with in the Dail and he doesn't mention any of the Independent 4 Change candidates.
2016 02 19 Drive Time
2016 02 24 The Late Debate
On RTE
Campaign Daily
says Tommy Broughan 'if you run as an Independent your obligation is to serve as Independent' while running for a political party.
Tommy Broughan
RTE election 2016.
RTE refused to recognise Independents 4 Change during the election, it had Tommmy Broughan listed under Independents 4 change but then changed it why?
Dublin North East and Dublin North Central - now #DublinBayNorth - the frankenstituency, the debate begins now #GE16 pic.twitter.com/E9A5PlUE5C

— Drivetime RTE (@drivetimerte) February 17, 2016
I emailed RTE and various other media end never got explaination.
I
commented on Tommy Broughan Facebook
about my desire for him to name the party, his assistant suggested I call him but Im not interested in having a phone conversation about it I just wnat him to publically name the party he ran for.
Irish Times
would not list his party, nor would the
Irish Examiner
,
Independent
Newstalk
or the
Sunday Business Post
@lostexpectation Tommy was non commital if it was a party. Said it was just a way of getting 'Ind' on ballot paper.

— Kieran Dineen (@KieranDineen) March 1, 2016
@TommyBroughanTD @faduda I4C may have no whip bt you can't claim to be an Independent and be in party that you nominated yourself for ge16

— steve white (@lostexpectation) June 7, 2016
Independents 4 Change

Mick Wallace's renamed party 'Independents 4 Change' name (previous Independent for Equality Movement). Mick Wallace originally registered the party as Independent for Equality Movement and ran 4 candidate in the local election 2014, none of whom got elected, he then change the name in
September 2015
.
The register of Political Parties
.
RTE's Election site has a page for not a party
Independents Alliance
but not for the party 'Independents 4 Change'.
Independent 4 Change candidates.
Barry Martin
Notice of Poll Dublin Fingal
Clare Daly
Notice of Poll Dublin Fingal
Tommy Broughan
Notice of Poll Dublin Bay North
Joan Collins
Notice of Poll Dublin South Central
Mick Wallace
Notice Of Poll Wexford
Candidates associated with Independents 4 change are former People before Profit now I4C Fingal County Councillor Barry Martin former United Left members SLigo county councillor Declan Bree and Dublin City councillor Pat Dunne.
Emmett Smith running in Cavan Monaghan
and
Barbara Smyth
in Longford Westmeath, although none of the official ran for Independents 4 change on the ballot they all ran as 'non-party'.
'Independents 4 Change' party got 4 TDs elected more TDs then Socdems(3) or the Green Party(2) or Renua(0) and media still often won't list them.

If Independents 4 Change start using the benefits of being a party will media start acknowledging their existence pic.twitter.com/3uUV8X23sY

— steve white (@lostexpectation) March 16, 2016
Their position on the rota is before the Greens or Social Democrats or the GP/SD group.
Standing Orders: Motion
8 June 2016
Tommy Brougahn: I was elected as a Right2Change candidate and an Independent 4 Change
Dail Debate 6 April 2016
Mick Wallace and Clare Daly of Independents4Change on
Justice committee
2 early examples of Clare Daly and Mick Wallace using Independents 4 Change to speak before Social Democrats and the Greens
1
,
2
.
Tommy Broughan
speaking before Catherine Murphy
TD in the Dail using the advatnages of being in a party.
Independents4change Mick Wallace Clare Daly, Barry Martin https://t.co/YBTksC7cp5 https://t.co/BXXuRNmh90 pic.twitter.com/nRbd8U8J8B

— steve white (@lostexpectation) January 10, 2016
I4C policies are conveyed in Dail Motions eg.
Private Members Motion (Independents 4 Change) 29 June 2016 establish a Commission of Investigation into Nama
.
Independent 4 Change Group
Under new
Standing Orders of Dáil Éireann
there is no limit to the number of technical groups.
Independents TDs Maureen O'Sullivan, Catherine Connnolly and Thomas Pringle have joined the I4C group for Dail speaking time and committee positions. (all
Right2change associated
candidates except for Catherine Connolly).
Mick Wallace: Independents 4 Change group - myself and Deputies Clare Daly, Joan Collins, Tommy Broughan, Catherine Connolly and Thomas Pringle
Dáil debates 14 April 2016
Ministers told they must seek permission to miss Dáil votes over 'delicate voting situation'
Irish Times Sarah Bardon Jun 1, 2016.
Meanwhile, Independent TDs Catherine Connolly, Maureen O'Sullivan and Thomas Pringle have aligned themselves with Independents4Change.
Ms O'Sullivan insisted she had not joined the party but would align herself with the technical group for speaking time.

Catherine Connolly: I thank Thomas Pringle, who represented views of Independents4Change group on the sub-committee
Report of Sub-Committee on Dáil Reform: Motion (Resumed)
19 May 2016
Mick Wallace elections posters with Independents 4 Change logo on the bottom.
Mick Wallace has some brilliant poster designers #ge16 pic.twitter.com/uehYhs5mZZ

— Alan Kinsella (@electionlit) February 5, 2016
Registering a political party
Registering a political party in Ireland
Citizen Information Board.
To be registered, your party has to satisfy the Registrar that it is organised to contest elections. Your party must also have one of the following:

It must have at least one member who, at the time of the application, is a member of the Dáil or a representative of the European Parliament and who certifies in writing to the Registrar that he or she is a member of the party.
Contact the Office of the Registrar of Political Parties and request an application form. You will receive a copy of the application form, together with with a copy of the relevant extract from the Electoral (Amendment) Act, 2001. The application form to register your political party is not currently available to download online.
In addition, the party must have a constitution, a memorandum or another document or set of rules that have been adopted by the party and that provide for:
An annual or other periodic meeting or conference of the party
An executive committee or similar body elected by the party, which administers the business of the party.

The register of Political Parties
.
So does it qualify as a party? I don't know how many meetings its had, the Social Democrats have yet to hold their first national AGM over a year after forming. Its due to be held in November 2016.
Polling
Various polling companies are including a not a party
Independents Alliance
but not including registered political party Independents 4 Change, is this based on the number of candidates? Even though some other parties such as the Social Democrats did not have candidate in all constituencies but there had 13/14 candidate which is enough to base a realistic poll on. Independent Alliance put up 20 candidates and elected 6 while I4C registered candidates but up 5 with 2 associated and elected the 4 incumbent TDs.
Links
Independents 4 Change on Politics.ie
Consolidated Standing Orders of Dáil Éireann 2016
Dublin Bay North on politics.ie
Independents 4 Change on politics.ie

https://t.co/DBlv1ymL5n
https://twitter.com/lostexpectation/status/709517965100716032