Reuters Digital News Report 2018
As part of the Reuters Digital News Report 2018 survey a question was asked of the public in each country 'Who is typically responsible for writing a press release? The results of the Irish survey carried out by FUJO surprised me.
33 percent thought journalists and news outlets write press-releases for organisations; only 36 percent correctly identified the role of a PR spokesperson.
Would a "Press Officer" answer option let more people choose the correct answer? (or public relations, less or more), or was there a confusion between a press release thats usually written and then offering spokesperson (as in speech) as the correct answer option?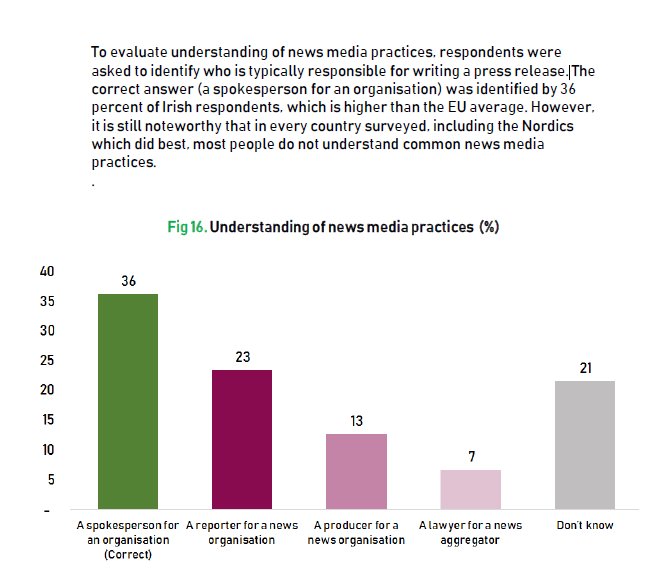 I read some other
US studies
/
surveys
of media literacy recently and the most of the questions seemed very basic to me, Im not sure how familiarity with the particular phraseology used by the news media is actually a news literacy test, a lot of the phrases are not actually used in the news, questions on general sceptism would be more useful. The
2018
and
2017
Reuters report seem to be about how the ignorant public get things wrong and are being misled by social media and outside forces, no mention of a catastrophic unending Mid-East war based on lies buoyed by the media or phone "hacking". The
2017 questionnaire
directly compared social media and news media and seem to prime the respondents to compare and contrast them rather then consider news media by its self.
Media Literacy vs Media Legibility
One of the functions of the
Broadcasting Authority of Ireland
is 'media literacy', news/media literacy seems to be (generally aimed children) but also to be all about the public's ignorance of the media and how it works, how about the media be more transparent.
I think the other side of the coin to 'media literacy' might be 'media legibility', as an example, the Reuters Digital Report 2018 report says a lot of the public were not clear about who writes press releases. If the media was clearer about often just turning press releases into articles (perhaps by including the entire press release they were sent at the bottom of the article or linking to it), that would be 'media legibility', ie. being clearer about what they are doing. Does BAI have Media Legibility Policy / Network or does is my example have any part of the Media Literacy policy?
I think media
correcting their mistakes
and using
hyperlinks
arey crucial. Maybe news media literacy is a consumer facing issue and news legibility is a journalism industry issue. So does anyone in Ireland promote news legibility for the public benefit? The Press Council/Ombudsman is extremely limited as a
I recently discovered
its for the press not the public. The NUJ seem to be like lawyers and just defend reporters no matter how they carry out their job. The are number initiatives like the
Trust Project Indicators
which would aid media legibility but none are active in Ireland. The
Centre for Critical Media Literacy
is for student journalists, will they be able to change industry practices once employed in the industry?
Broadcasting Authority of Ireland
The Broadcasting Authority of Ireland operates under the
Broadcasting Act 2009
Among the
functions
of the BAI is to,
(g) to undertake, encourage and foster research, measures and activities which are directed towards the promotion of media literacy, including co-operation with broadcasters, educationalists and other relevant persons.
it also
funds
(b) new television or sound broadcasting programmes to improve adult or media literacy,
Definition of media literacy
" media literacy " means to bring about a better public understanding of:

(a) the nature and characteristics of material published by means of broadcast and related electronic media,

(b) the processes by which such material is selected, or made available, for publication by broadcast and related electronic media,

(c) the processes by which individuals and communities can create and publish audio or audio-visual material by means of broadcast and related electronic media, and

(d) the available systems by which access to material published by means of broadcast and related electronic media is or can be regulated;
BAI Understanding media and the Media Literacy Network
Media Literacy Network Ireland
BAI's
Media Literacy Policy
Document
on the working groups of the Media Literacy Network Ireland and the Interim Steering Groups and an infrequently updated
mailing list
.