Oireachtas Correspondent writes 'articles' about TDs speeches and sends to them Local Media each week who publish them. He collates and reformats Oireachtas speeches into articles for publication in local/regional newspapers. Another Oireachtas correspsondent does similar with audio clips for radio stations.

This is rewrite of a thread I started on Politics.ie, thanks to user reckless who dug up a bit of key info.

Local Media Reports, Houses of the Oireachtas

Local Media Reports
Each week the Oireachtas Correspondent reviews what members from a particular constituency have said in the Dáil, Seanad and in Oireachtas committees and compiles newspaper reports based on these contributions. These reports are sent to local and regional newspapers in an article format highlighting the contribution of members of the Oireachtas from the previous week of proceedings.

These articles will be listed by the constituencies that the relevant newspapers cover and sometimes will also be listed by interest area where a magazine of a specific interest carries the reports. Articles will remain on the Oireachtas website for a 10 week period before being removed.

On this page you will find reports, which, are compiled by an independent, impartial journalist on behalf of the Houses of the Oireachtas.
The reports are put up on the
Oireachtas website
in categories by constituency or by subject, week by week and then taken down every few months as new weeks are put up. (though the you can still access the old by following the url format).
You can see an example of it in the Corkman,
Overstaffed HSE is inefficient claims TD Collins - News - Tim Ryan - Corkman.ie
and the
version on the Oireachtas website
I archived.
Some say this has always gone on, that papers often regurgitate party political speeches, yes this may have always happened, but this looks worse for local newspapers, not only are they just repeating what just one local politician said they can't even rewrite the speech for themselves? two degrees away from journalism.
Oireachtas Correspondent
The articles are often bylined the Oireachtas Correspondent, that person is
Tim Ryan
a public affairs consultant and journalist. See some of his bylines
Tim Ryan, Oireachtas correspondent
.
Hayes seeks automatic medical cards for cancer sufferersThe Nationalist.
€1.6m spent and still no sign of Cromane pier Kerryman.ie.

This guy says he does public relation for lobbies TDs and Senators on behalf of companies and various organisations _and_ also puts articles in newspaper across the country paid for by the Oireachtas.
In June 2011 Tim was appointed to the Government's High Level Group on Business Regulation. In February 2012 he was appointed a Director of the Private Residential Tenancies Board by the Minister for the Environment, Community & Local Government, Phil Hogan TD
Apparently he was editor of the E-Dail Digest in 2000, a preview of what was happening in the dail that week online
The Irish Times - Sat, Jun 03, 2000 - Getting round the Dail
He writes for and edits the
Institute of Professional Auctioneers and Valuers magazine
In this article
he quotes a speech about the PRTB (Private Residential Tenancies Board) of which he is a board member.
And all the other times
Radio
Ken Murray does pre-packaged news reports for radio, (having done them for INN), seems he does the same for the EU
Linkedin
Currently providing weekly Irish parliamentary round-ups for commercial radio stations in Ireland.

Ireland Correspondent for Radioec.com providing EU Commission news for public and commercial radio stations in the Republic of Ireland.
Ken Murray is the Oireachtas Correspondent for local radio,eg on LMFM who don't say who he works for, the Oireachtas.
Ken Murray, our Parliamentary Correspondent brings us the 1st Oireachtas report of 2013 featuring our local public representatives#MREADE

— LMFM RADIO (@LMFMRADIO) January 18, 2013
An example of Oireachtas Correspondent Radio report on the
Michael Reade show LMFM at 38 minutes
(mp3)
...where he just talks about audio excerpts from the Oireachtas, where Louth/Meath TDs talk.
Jan 18th Oireachtas roundup doesn't mention who he's working for, the broadcasters says "our Oireacthas correspondent".
Tenders
Two tenders for Oireachtas correspondents for radio and newspaper.
Oireachtas Radio Correspondent
Short description
2012/1024 - Professional Correspondent Service to Provide Local Radio Reports for the Houses of the Oireachtas
Detailed descriptionThe Houses of the Oireachtas Commission ("the Commission") wishes to engage Correspondent Services to edit and present live and pre-recorded relevant information reports for local radio from Leinster House.
Oireachtas local newspaper correspondent
Short description
2012/1025 - Professional Correspondent Services to edit and present relevant coverage of proceedings of the Houses of the Oireachtas to Local/Regional Newspapers in Ireland
Detailed description
Professional Correspondent Services to edit and present relevant coverage of proceedings of the Houses of the Oireachtas to Local/Regional Newspapers in Ireland. The intention is that the Oireachtas will pay for this service on the basis of per article published.
found via
Tender opportunities for journalists
Oireachtas PR man Mark Mulqueen says they've had Oireachtas correspondents since 2007.
Declaraion
Reckless found this in the
Kilkenny Reporter - 23 Jan 2013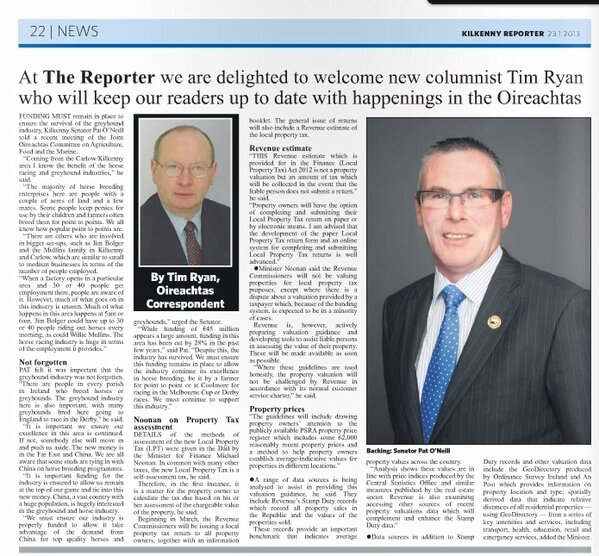 'At The Reporter we are delighted to welcome new columnist Tim Ryan
who will keep our readers up to date with happenings in the Oireachtas'
a self promotional freesheet doesn't mention they don't pay him to write these, he is paid by the Oireachtas, they pretend they've hired a columinst.
Is this clear? NO, there needs to be a clearer form of words for what he does, as he reproduces Dail speeches.
Papers
list of some of the papers that use the oireachtas correspondent
| | |
| --- | --- |
| Newspaper | Publisher |
| The Evening Echo | Thomas Crosbie Holdings |
| The Irish Farmers Journal | The Irish Farmers Journal |
| Donegal Democrat | Johnston Publishing Ltd. |
| The Liffey Champion | The Liffey Champion |
| Connacht Tribune | Connacht Tribune |
| The Kilkenny People | Johnston Publishing Ltd. |
| Tullamore Tribune | Alpha Newspaper Group |
| Connaught Telegraph | Connaught Telegraph |
| Tipperary Star | Johnston Publishing Ltd. |
| Waterford News & Star | Thomas Crosbie Holdings |
| The Evening Herald | Independent News and Media |
| Kilkenny Reporter | Kilkenny Reporter |
| Corkman | Independent News and Media |
| The Southern Star | O'Regan family |
| Limerick Leader | Johnston Publishing Ltd. |
| The Nationalist | Johnston Publishing Ltd. |
| Munster Express | Munster Express Ltd. |
| Kerryman | Independent News and Media |
Radio Stations
LMFM
Update
Houses of the Oireachtas Commission Minutes of Meetings of 21 January 2014
6. REPORT ON COVERAGE OF OIREACHTAS BUSINESS

The Commission noted the information note provided on the local newspaper and
radio station service. It was agreed that the Communications Unit would continue
to pursue local radio stations to broad en the base of stations that broadcast
the weekly report until Easter, at which point the continuation of the service
will be reviewed. In relation to local newspapers, it was agreed to continue to
rollout the delivery of the weekly reports to the regional areas not currently
serviced in line with demand
I don't think there is massive conflict here but it should be made more clear in print and on radio what he is doing and who he is doing it for.
will it continue, should it?
Can you tell me in the comments any more radio stations that use this service.