Before suggesting new citizen's assemblies / constitutional conventions shouldn't we get answers on the lax recruitment standards used for them, a few examples below.

Constitutional Convention 2012 - 2014

A women called "Louise from D12" rang up RTE's LiveLine in February 2013 to discuss the Women in the Home debate and casually admitted (at ~24ms) that a friend that works for the company recruited her, and did so because she knew she would fill out the survey, because she had done surveys with her before and she fit a demographic, considering the rules of selection required a recruiter to start at a randomly selected house, what are the chances she was following the rules or just got lazy.

There were multiple versions of the convention membership list as people dropped out and others were added and I have not found a Louise ? Dublin 12 in any of the lists I have, but there is a Yvonne X Dublin 12. A woman called Yvonne spoke on RTE 's Liveline during April 2013 who joked about the Chair Tom Arnold calling her Louise and who Joe Duffy described as the only person to speak publically about the Constitutional Convention. So this is obviously the same person.

It was a different polling company to the one use for the Citizen's Assembly, but same lack of standards, I looked and couldn't find an ethical code for market research staff and the companies would not give them to me.

I did try to find engage Behavior and Attitudes re the "Louise" situation they equivocated. I was told "Our interviewers are told not to return to respondents until an extended period of time has elapsed. " but what if the fieldworker becomes familiar with a person views if they have surveyed them multiple times, should they return to them at all if the survey is about socio-political issues?

I submitted a complaint to ESOMAR through their complaint form never heard back from them.

For the constitutional convention a married couple and some neighbours were chosen to be members which doesn't seem very random or demographically spread.

Concern as couple and set of neighbours are 'randomly selected' for constitutional body Independent.ie Fionnan Sheahan February 16 2013

It interesting that this was added to the Citizens Assembly methodology

Interviewers selected a start address at random within the DED allocated to them. They then tried to complete interviews at every nth house within that specific location. Within each household a random selection process was used to identify the person to try and recruit if more than one person was available.
 Direct applications from members of the public to take part in the Assembly were not accepted, as the members of the Assembly had to be chosen at random to ensure a completely unbiased approach and be broadly representative of all citizens using demographic variables as reflected in the Census. Similarly, interviewers were not allowed to recruit friends or family together.
The
questionaire
asked people what way they voted in the last election but the Assembly said they did not use that information to select, It seems it was asked to cover themselves from accusations of political party stuffing.
How people voted at the last election was asked in the recruitment questionnaire by REDC in case it was required for quota purposes. It was however, decided not to quota the sample on this basis but only on the basis of demographics.
Seems like a direct attempt to address the issues highlighted in that article and elsewhere but they haven't addressed the issue of a recruiter using people they've surveyed before as I highlight above.
Citizen's Assembly
Statement from the Citizens' Assembly re issue with the recruitment of some replacement members in December 2017/January 2018
RED C Internal Audit
REDc
were asked to recruit 13 more people after drop outs before the
referenda session
and turns out one recruiter was having trouble recuiting people so asked his family and friends to suggest people and then rang them rather then do it by random door knocking as per the
rules of the recruitment
, he recuited 7 people in this improper way. So the close votes for the referenda session are being deemed invalid.
REDc say they checked and said all previous recruitments were correct so previous sessions such as abortion not affected...
I don't know how the problem wasn't spotted when there is supposed to be as RED C state "a secondary validation screening process to double check that those who had been recruited were a. definitely happy to take part and b. were recruited as prescribed".
REDc follow-up validation questionnaire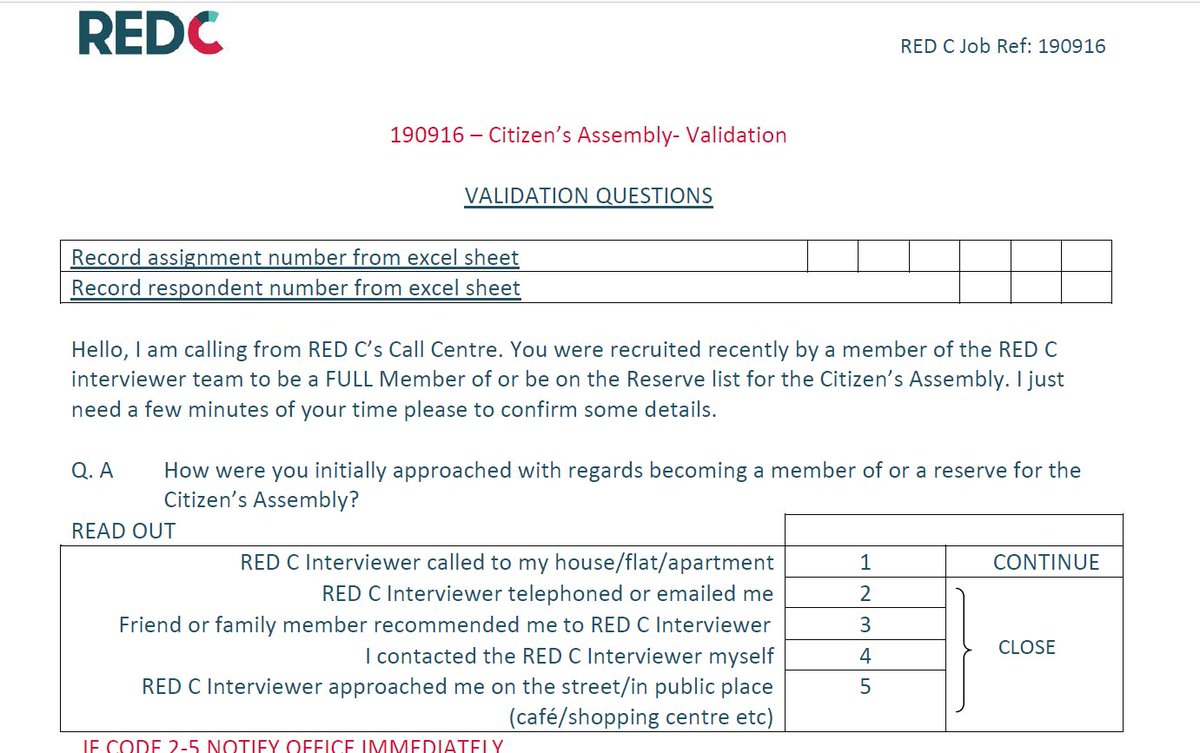 I asked the Citizens Assembly about this and they justed quoted the report I had already read back at me,
In response to your specific query, I refer to section 8 on page 14 of the Audit Document, specifically point (g) under the heading "Audit Response" . I include the full text of point g below for convenience:

"g) The verification documents show that a full and proper verification procedure was initiated and completed with each of the seven members, but the responses given by each did not point to the irregularity of recruitment which has since been identified."

I hope this answers your query.
No it doesn't, how is that they asked these people about how they were recruited and none said they contacted first by phone which is what this suspended recruiter did, (not by a door knock) against the rules of the recruitment process. Did the recruiter tell all 7 to lie to the next REDc employee to call them about how they were first contacted but 1 of them forgot to lie to the secretariat at the meeting?
Their
audit
says,
This came to light in final checks conducted by the Secretariat among new members attending their first meeting on the 13th & 14th January 2018, when one replacement member stated that recruitment had been initiated by telephone rather than face to face.

So secretariat had suspicions on the day but let the people continue (otherwise the meeting would have to have been cancelled?).
It was reported at the time the recruiter directly involved was suspended, would like update on the disciplinary procedure.
Recruiter for Citizens Assembly suspended after replacement members enlisted through personal contacts and not randomly
Irish Independent Allison Bray February 21 2018
Theres long been criticism of pollling, thats its often done by people ringing their mates to fill a quota and here we have that exact thing happening...
Another rogue recruiter
A person
commenting on TheJournal article
said that somebody tried to recruit him to the citizens assembly on the street as opposed to door knocking as was required in the contract, I didn't believe him at the time because he said he was asked about his vote, the
REDc methodology document
they put out at the time didn't mention asking about last vote, they published the questionaire a week later and it included a question about their last vote, the Assembly said they didn't use it as selection criteria but they obviously asked as way to cover their ass regarding accusation of political stuffing.
Now that the
Taoiseach
and
other political parties
are looking at more Citizens Assemblies, wouldn't it be useful to scrutinize the ethical standards of the polling/recruitment staff of the companies used.
Behaviour & Attitudes
We are members of AIMRO and ESOMAR, and adhere to their standards as well as those dictated by top tier membership of MRS.
I searched for the standards and found standards for the companies but not standards for the field workers themselves.
Advocacy groups members vadilation fails
Citizens' Assembly member replaced over role with pro-choice group
Oct 21, 2016, 16:38
Sarah Bardon
The quote from Red-C suggest he did not mention his past participation in advocacy groups but he says he did.
Looking like there's no more #citizensassembly for me RedC recruiters failed to enquire into my past in advocacy groups after I mentioned it

— Micheal O'Riordain (@SuperMikeyMan) October 20, 2016
REDc methodology document
As the Assembly will be discussing five separate predefined topics, it was agreed that members of advocacy groups on these topics (should they be randomly approached),will be excludedfrom membership of theAssembly. The rationale for this decision is based on the fact that interest groups will be invited to make presentations/submissions on the matters concerning them
During the recruitment and validation process each member confirmed that they were entitledto vote at a referendum, and confirmed that they have not been nor intend to be acting in an advocacy role for any interest or lobby group currently campaigning on any of the issues to be considered by the Assembly.
How did validation fail again?
Links
ESOMAR standards
ESOMAR Guideline on Opinion Polls and Published Surveys August 2014
AIMRO standards
MRS standards
Update on
Constitutional Convention 2012 - 2014
2019
Finbar's Intervention
Author: Bastian Berbner First Published: Süddeutsche Zeitung Magazin, Germany, 2018-05-25
That day, as on any other workday, Finbarr drives his van 110 kilometers over the rolling green hills and narrow stone bridges around the small, southern Irish city of Macroom, making stops at 540 mailboxes in total. After delivering the last of the day's packages and letters, he breaks for a coffee on his way home. He's sitting alone at a table, when a woman enters the café.

He knows her, but then, he knows almost everyone here. O'Brien is a good mailman. Not the kind to snoop in people's postcards. Rather, he's the kind of mailman people are eager to share their news with. The kind they tell where the spare key is hidden, in case they're out. O'Brien knows whose car is whose here, who is sick with what, where the kids have gone to study, and what brand of food the dogs get.

As for the woman who enters the café that day, he knows that her name is Caroline, and that she works for a polling institute, or something. She comes over to his table. Finbarr, she says, would you be interested in going to Dublin one weekend a month for about a year, to consult on a new constitution for Ireland?
The
rules of selection
required a recruiter to start at a randomly selected house. It could be that the cafe is the random address it doesn't say it it excludes business address's (but it might) but she didn't just go to a random person (or the owner) but somebody who as the articles says she knew the name of, what else did she know about him, his political views?
Further down the articles says,
Chris Lyons is 26 in autumn of 2012 when a friend's mother, who works at a polling company, emails him and asks: Would you like to be part of this?
This is not how the constitutional convention members were to be recruited.
Recruiting for this assembly was very hard but that's no reason to break the rules.
Links/Sources
RTE Liveline: The Citizens' Assembly
25/04/2017
RTE Liveline: The Citizens' Assembly
28/05/2018
Manner in Which Refenda are Held